May 7th, 2009
WARNING – Explicit Content
Shit making poor killing bomb dropping slick lying cruel backing money printing people fucking bankers
Pakistan army assaults Imagi ban er fantasy ban er Taliban  positions in sop to president Obama's demand for action
Civilian Afghan death toll from US airstrike likely to exceed something or other  says heartless inhuman spin doctor
In the UK  DNA database ruling completely ignored by fascist police state lunch room monitor jaqui smith
Hello bill paying masses welcome to the fkn newz im papering over the cracks here are the headlies tonight
Stress tests on Americas largest banks show that many of them need more funds.The tests were designed to gauge whether any of the nation's 19 largest banks would need more capital to survive a deeper recession. what a surprise It turns out they do : Wells Fargo & Co., Citigroup Inc. and Bank of America Corp. all need billions more and you know where there gonna get it hahaha ..raising the money should be no problem for the shysters er bankers though as the debt slaves of america are still bent over cheeks parted, ready to deliver themselves and their childrens, childrens, children into bondage and subservience to a fake economy and the few very, very wealthy banking families that we owe all of this money too. such willingness to be slaves for the benefit of failed businesses, that "should" according to the free market be more bankrupt than a south sea bubble,, is contrasted by our lack of desire to help human suffering, as ..Achim Steiner executive director of the UN Environment Programme told the BBC One Planet programme. Mr Steiner fought for years to secure small sums to tackle poverty and climate change. he says "We waited perhaps a decade to get $5bn  to accelerate development of renewable energy," while within a year Over $11trillion (£7tn) has been spent on bank bailouts in the UK and the US alone. We now see $20bn  paid a car company simply to keep it alive." , Mr Steiner urged the public not to be "sold the false story" of banks having to be fixed before worrying about other issues…like oh avoiding mass extinction,agricultural collapse,3rd world poverty, but who gives a fuk about that, we needs banks to lend us money to live in houses that trap us into consumerism and dependence on shoppping, loans to buy cars that spew out poisons and  cost the earth, and big tv's to watch the mindfuck that persuades us its ok ..moron that story later..
American er Pakistani helicopter gunships and warplanes have been bombing suspected Taleban militants AKA Civilians .. in the Swat Valley of Pakistan . Pakistan is the nuclear state most likely to be invaded to start WW3 er I mean save the world from nuclear armed brown people er extremists. US President Barack Obama vowed to "promote al-Qaeda" and its imaginary allies in Pakistan and Afghanistan.Going on not to say ..None of the people fighting against us are just pissed off local people, tired of America throwing its weight around. Every single one of them is a fully paid up card carrying member of whatever organisation I say they are. Of course you would all find it unnacceptable for us to simply kill people but fighting an organisation is so much more palatable , so Al quaeda and the Taleban for ever , long live the names of groups were allowed to kill and no one mention the individuals ok!. Obama was speaking after talks in Washington with Imaginary Afghan President Hamid Karzai and puppet Pakistani President Asif Ali Zardari.
In a related story . Afghans have staged an angry protest following the suspected deaths of up to 100 civilians in a US-led air raid in western Farah province. If the casualties are confirmed, it would be the largest loss of civilian life in a single attack since US troops invaded Afghanistan in 2001. General David McKiernan, the top U.S. military commander in Afghanistan, raised some doubts Wednesday about whether it was an American air strike that caused the deaths and launched an enquiry into how civilains die so easily ..he did not tell fkn newz that "we are looking into reports that the taleban are letting people get blown up by our bombs then blaming us for dropping them. We have some of our best people investigating whether or not we can blame some one else for this and we hope soon that is exactly what well be able to do..
In The UK   DNA profiles of almost a million innocent people will be kept on a database for up to 12 years. in spite of  a legal ruling that the UK database breaks the law. The DNA profiles of up to 850,000 innocent people will eventually be removed from the database of 4.5m  following a European Court ruling.
Commons Leader Harriet Harman said the plan's critics were "against justice"and that only by having every body in jail I mean on our database can the police deal with crime without having to lift a finger, allowing them to concentrate on beating protesors to death , fining motorists, and enforcing bin collection regimes on behalf of fascist beauraocratic councils up and down the country..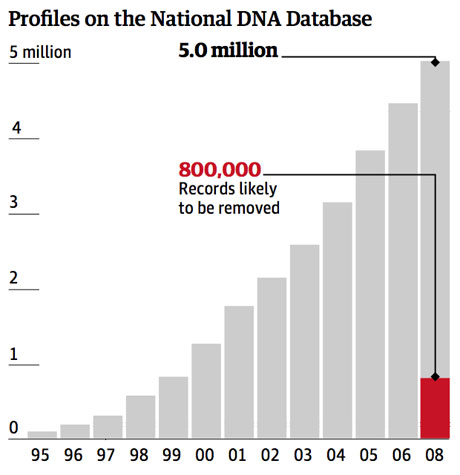 The UK has the largest national DNA database of any country in the world. A report by the Lords Constitution Committee found that 7.39% of the British population has a profile on the national DNA database, compared to 1% of Austrians and 0.5% of Americans.
Jaqui smith secretary of state and the person repsonsible for upholding law and order in the country saifd that by ignoring european laws she was setting a good example to villain s in this country , after all its our right to decide for ourselves which laws we like and dont like innit, anyway if you have nothing to hide you have plenty to fear since your government will soon have your dna , bank account, telephone calls, internet use, email, medical records  and school reports on one big disc they can lose on a train to brighton one day..
thanks now the weather
Over here in usa ,brainwashed complicity in the war on error,  ignorance, lack of respect for and about other cultures,and the worlds biggest military , will lead to showers of bombs around the M east , with dead women and children ,clouds of quisiling squirming blame shifting and  a great deal of hypocrisy…have a nice weekend..
Source: Fkn Newz